Looking for that show-stopping, perfect-fit pair of cowgirl boots? At Old Country in Las Vegas, your dream boots become a reality. Our master bootmakers specialize in creating unique, high-quality cowgirl boots designed to match your style and fit.
Why Choose Handmade Custom Cowgirl Boots?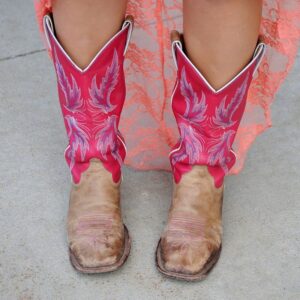 Ordering custom cowgirl boots guarantees a unique pair of boots where you can build them down to the smallest detail.
Exclusivity – A one-of-a-kind look tailored to your preferences, ensuring that no one else will have boots quite like yours.
Perfect Fit – Crafted to fit your unique foot, ankle, and calf size.
Versatility – Wear them at a wedding, while horseback riding, or for a night out.
Durability – Our attention to detail means your boots are made to last.
Personal Touch – Add unique elements like inlays, stitched designs, beading, and monograms.
Endless Customization Awaits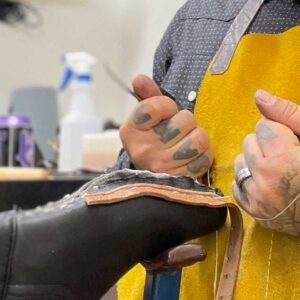 Dive into a world where your cowgirl boot's design is only limited by your imagination. Whether you crave the classic charm of traditional cowhide or the allure of exotic lizard skin, we've got you covered.
Special wide-calf or wide-width styles.
Choice of color, pattern, and material.
Various heel height options.
Choice of toe shape; square, rounded, pointed, etc.
Ability to add embellishments like metal studs, rhinestones, or lace.
Insole options take your boots from work to the saddle and across the dance floor.
Better Than Store-Bought Options
When choosing the perfect cowgirl boot, the difference between custom-made and store-bought can be monumental.
Material Integrity
One of the most significant advantages of our custom boots is the assurance of 100% genuine leather. Unlike store-bought versions that may incorporate fillers or synthetic materials, Old Country boots are crafted exclusively with pure, top-grade leather. This means they're more aesthetically pleasing and more durable, and comfortable.
Precision Fit
Every foot is unique, and a boot that might fit one person comfortably could be a nightmare for another. Store-bought boots offer a generic fit designed for the average foot. In contrast, our custom boots are handcrafted for your exact foot dimensions. This guarantees a snug fit without pinching or discomfort, providing better support and more graceful wear.
Long-Term Benefits
The combination of genuine leather and a tailored fit means that the boots feel good and kinder to your feet in the long run. They naturally adapt to the shape of your feet, reducing the risk of blisters, discomfort, or foot strain. Over time, as the leather matures, it molds even more closely to your feet, ensuring that your boots remain comfortable no matter how often you wear them.
Value for Money
While custom-made boots might seem like a bigger investment upfront, their durability, comfort, and timeless design ensure you get more bang for your buck in the long run. When investing in custom cowgirl boots, you're not just buying footwear but a lifetime investment in comfort, style, and quality.
While store-bought boots might be a convenient option, there's no comparison to custom cowgirl boots' luxury, fit, and longevity.
Begin Your Custom Cowgirl Boot Order
Ready to strut in your custom cowgirl boots? Whether in Pahrump, Boulder City, Henderson, or Summerlin, reach out to Old Country in Las Vegas today. Let us transform your vision into a tangible masterpiece. Not local? No worries! We're just a phone call away.